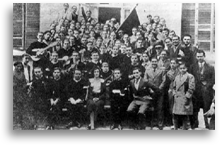 The Most Illustrious, Glorious and Rambler Tuna Universitaria del Distrito de Murcia-1912, dean of the tunas Murcia, emerged in the early twentieth century in the year of grace of our Lord 1912, having spent his life performing in illustrious houses, college trips, invitations, music competitions and other romantic adventures.

La Tuna was born in 1912, shortly before the final creation of the University of Murcia, as a result of disorganized and isolated tuna music performances featuring students from Murcia who were studying in other universities in Spain. Framed within the University of Linguistics and Literature, the University of Murcia Nowadays, our music band firstly adopted the name of "Murcia School Tuna"

After the founding of the University of Murcia in 1915 and until the beginning of the Spanish Civil War, the Estudiantina Murciana (as it was known) continued to play its music to enrich the university life. During the War, due to special circumstances, the Tuna suspended its activity. After the war the Tuna returned belonging to the Falange political movement, the only possible way to perform at that time and was renamed "the SEU Tuna. By 1947 the Tuna separated from any political movements and was definitely renamed Tuna Universitaria del Distrito de Murcia-1912. Since then and until today, the Tuna Universitaria del Distrito de Murcia-1912 has been acquiring more prestige. The tuna is actually composed of more than thirty members, many of which are members of ancient Flanders infantry, and all of them being students from all different faculties and university schools of the District of Murcia, so do not depend on a single faculty, but on the Chancellor of the University of Murcia.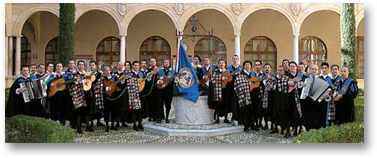 Since the beginning of the century, when the Tuna appeared, until today, in the twenty-first century, all members who have been part of the Tuna have had one aim, to perpetuate what Don Francisco de Quevedo called "the art of Tunar and sing".

This Tuna lives an eternal youth full of huge projects, enjoying a magnificent health that it hopes to retain for many years. We also have the huge privilege of having the image of Our Holy Virgin "Nuestra Señora del Carmen" as the Godmother of Honor of our tuna, who received the scholarship from the Tuna on July 13, 2001.

¡¡GO TUNA!!